Hardscape Is A Great Addition To Your Landscaping
I use large built in planters to solve a variety of landscape problems and here are 5 of my favorites.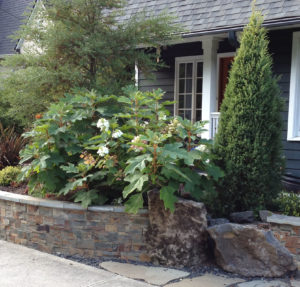 The Hendrickson planter is about creating privacy for the living room window.  Their Willamette Heights house is 12 feet from the public sidewalk and they live near a park so there's lots of foot traffic.  Juniper Communis 'Gold Cone', semi dwarf Oakleaf Hydrangea Quercifolia, 'Sykes Dwarf', California lilac 'Concha' (Ceanothus) purchased as a tree form at Kinens Big Phat Plants. This is a specialty wholesale only grower who shapes his plants beautifully before selling which is why I love to purchase a focal point plant such as the California Lilac tree from him.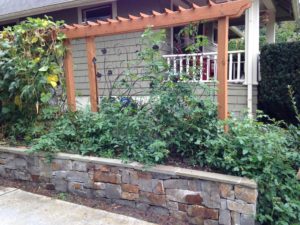 Anderson planter with an arbor creates a visual barrier between the neighbors' utility side yard and the Anderson's driveway.  The kids play in the driveway and the adults use the planter for edibles so this area has become an important part of their yard. It also adds dramatic curb appeal to the entry.
The Coles …. here we use green peeled logs to make a raised beds/planter.  We wanted raised beds so the plants would be safe from the dogs (two very smart and active standard poodles) who fly through paths.  I chose the peeled logs because they fit into the woodsy Northwest natural setting of this property. I also had the specialty cedar chips laid at 6″ deep.  It's too shady for lawn and other medium encourages fleas and doesn't last.  It's the perfect dog friendly solution for a shady back yard. The plants pictured are native Sword Fern and Hardy Geranium, Geranium Macrorrhizum 'Mrs. Ingwersen' also have a woodsy look.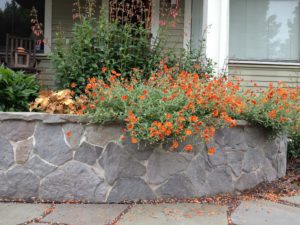 Michaelson's planter – this stone planter gives us the opportunity to jazz up the curb appeal of this bungalow in NE Portland.  It's about creating a dramatic and colorful entry experience and visually softening the foundation below the front porch. Helianthemun 'Henfield Brilliant' billows over the cap of the planter.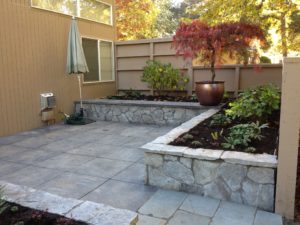 Knight – here is a very modern patio and it would be nothing without these planters.  We chose planters rather than at grade planting beds because of ginormous tree roots that invaded all the planting beds.  There was no room to even dig holes for new plantings.  Gardening will be easier for my client who is approaching an age where bending down to tend the ground is a less attractive idea. Read more.
If you are interested in how hardscape landscaping can be added to your garden, contact me for more information!