No Lawn Back Yard Landscape Design in Grant Park
Chris and Stacey found me via Neighbor Next Door and having read my blog about dog friendly landscapes they called me. Their new home had an interesting garden. While it was more attractive and well tended than typical, it did not fit them at all. Their dog Olive was 60 pounds and loved going to the park. They didn't feel the need for a lawn just for their dog. Their previous home was lawnless and Olive was fine with that.
My clients knew they wanted to remove the hot tub, the lawn, most of the plants and design a new back deck.
There was an attractive paver wall associated with the existing white wood pergola. Sadly upon investigation the very attractive wall pavers were mortared onto wood, an attractive but short term solution. The white pergola did not fit their style.
They felt the existing landscape had no flow. The plants were high maintenance and overgrown.  Some were rather invasive. They liked some of the vines on the side of their garage but others were too rambunctious.
They wanted a larger lounging area with better privacy.
Designers Assessment
We needed privacy from the neighbors kitchen windows across the driveway. The privacy did not need to be evergreen so I used a Japanese maple noted for sun tolerance.
Creating privacy from the back neighbor was easy because of the shared back garage wall and the existing lilac trees. The wispy lilac trees were at the perfect screening height but needed pruning to encourage denser foliage growth.
An evergreen Magnolia grandiflora 'Teddy Bear' is planted to complete privacy to the lounging area. The paths of crushed rock (granite) integrate the landscape and also create the planting areas that provide screening between the rooms.
Tree selection
The boulders were used to plant the screen tree (Magnolia grandiflora 'Teddy Bear') up higher.  We thought about many different evergreen small trees for this important focal point spot.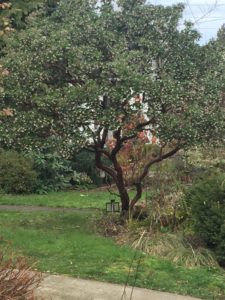 My client  sent me this photo of a Manzanita from a neighborhood walk. We love the red bark however Manzanita is rarely offered by growers larger than 3′ tall.  We settled on the semi-dwarf Magnolia.
Materials
Decomposed granite for paths.
Oklahoma Blue Stone for patio.
Boulders (to create attractive edging).
Stacey's Comments
"I think Carol's collaborative process worked well for us. It was a true partnership. The first design she presented to us showed she was listening carefully to what we wanted and had applied her creativity to our desires.
We made changes here and there and if our changes were not going to work, she said so and tried to take the reasons behind the idea and make that work in a practical fashion. Our new design integrates the different rooms and now has a very strong naturalistic style with a lot of color and amazing flow."
Are you looking for a great outdoor space for your family? In need of landscaping for your dogs? Take a look at our Contact Page to learn more.