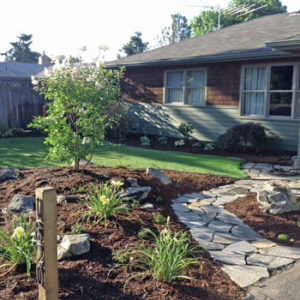 Carrie is a real estate agent and understands the importance of curb appeal.  She wanted some for her own home.  She hoped for colorful easy care plants, low water needs and a good winter look as well as the other seasons.
The low rock wall next to the driveway was supposed to add interest to the front entry area, instead it blocked the flow to the front door,  it had to go!
Keeping some existing mature plants helped keep costs down and made the new landscape look mature right away.  We were able to use them beautifully.
By the end of our design day we were both happy and exhausted.
We added a Crape Myrtle,  (Lagerstromia 'Natchez')  which has 4 season beauty; beautiful bark in winter, nice leaves in spring, summer flowers and hot fall color. Ornamental fountain grasses were combined with my favorite Echinacea (Coneflower) 'Kim's Knee Hi Red',  Heather,  dwarf creeping ferns, and several evergreen ground covers.
We kept the Japanese Maple, weeping blue conifer, two gold Mexican Orange shrubs,  Hellebores and Daphne.
"I've worked with Carol Lindsay and Landscape Design in a Day before on my back yard and it was a great experience.  When it was time to take on my front yard I knew we were in good hands.  There was no way I was going to hire someone else.  I'm so happy I invested in this plan – the fact that I can divvy up the sections and work on it in pieces makes it perfect for me.   I highly recommend working with a professional to get a plan."  Carrie Palmore